Correspondances croisées...English....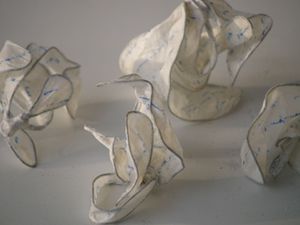 Itinéraire 5 : Anne de Beaufort
« Correspondances croisées »
..France...Spain…Lithuania…Germany....France...Spain…Lithuania…

This is the story ... through objects ... of movement and artistic meetings throughout Europe, a project "beyond places", "beyond borders", a permanent shift from one region and one country to another...

« correspondances croisées » was started in 2007 between three French artists
Anne de BEAUFORT - Brigitte LONG - VOLSY
They developed this correspondence and exhibited it in Berlin in 2008 (Soldina Gallery, Kolonie Wedding).
Following this, they invited three other artists to share in this original adventure.
Jordi URBON, Spain - VIRGIS, Lithuania et Anders ZETTELMANN, Germany

They met in artistic symposiums in Lithuania, Poland, the Czech Republic, Spain, France and Germany during the years before. Some links emerged together with the desire to carry on these artistic exchanges in the future, despite the difference of culture and language: « correspondances croisées » began then in 2009 between six artists and four countries .

Several parcels travel at the same time between different countries. They contain small artworks with various shapes, materials and meanings, which are invitations or provocation to creation. Each artist appropriates the story and gives a plastic answer to what he or she receives, between* distance and careful listening.

... do they look for a different kind of communication with others ? ... a common artistic language ... ? ... where are the limits of sharing sensitiveness ? ... does this exchange make them develop their own process and way of expression? ... To what extent may the artist be influenced by another in his or her own creation? ... to what extent may they visit the other's world ?

These dialogues create series of objects which reflect various kinds of expression : aesthetic or poetic, minimalist or humorous ... they are enriched at each stage and create real "routes"...
« Correspondances croisées » lead Anne de BEAUFORT, Brigitte LONG, Jordi URBON, VIRGIS, VOLSY and Anders ZETTELMANN to explore differently …perhaps this may open new doors to unknown territories?...

Serendipity gallery in Kunsthaus ACUD in Berlin presents "correspondances croisées" starting on November 8th 2012.
It is the first stage of a European journey, which will have exhibitions in Grenoble-France, in Barcelona-Spain and in Vilnius-Lithuania.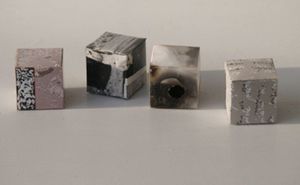 Itinéraire 5 : Virgis